Wine Workshop
Wine Workshop was established by Nina Cerullo (Dip WSET), in 2007. Nina has been presenting and lecturing in wine since 2001.
Nina is now a well known lecturer for the wine trade. A member of the highly regarded Association of Wine Educators and a certified educator and regular speaker at the WSET head office (Wine and Spirit Education Trust), Bermondsey Street in London.
Nina is also an accredited Bordeaux Educator working with the Ecole du Vin de Bordeaux and Vin du Medoc.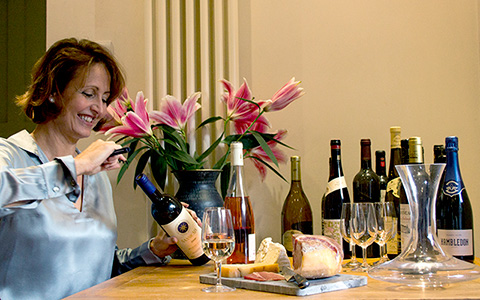 My wealth of experience in the wines of Bordeaux is helped by regular visits to my father's family home in Bordeaux giving me the opportunity to constantly explore this beautiful region.
Nina is often found at the WSET on Bermondsey Street. As a WSET certified wine Educator she can be found in the class room but also in her favourite room on the 5th floor delivering masterclasses to the trade and the consumer.
The glorious Burgundy Series, The Italian Series (helped by being married to an Italian and having lived there for many years, Wines of Alsace, Italian Icons, French Icons and many more.
The worst thing about these sessions is Nina's passion for food as much as for wine. Leaving these sessions hungry is a given!
"Nina Cerullo presents her exceptional Italian series. Over 5 Tuesday evenings she'll cover North Italy, Piedmont, Tuscany, Southern Italy and Sicily in detail and offer up some of their finest wines to taste."
"Our fantastic Bourgogne series returns this September, hosted by the brilliant Nina Cerullo. Over three Tuesday evenings, she'll take you through the white, red, and cru wines of this iconic region."
Nina is regularly found speaking for wine clubs around the country.
Wine Workshop offers an enjoyable way to learn more about wine; to inspire, enthuse and encourage your investigations into this glorious subject.
Wine Workshop can also teach you how to look after your wine and to demonstrate in a fun and informal manner in cooporation with a local talented chef how to match wine with food. Link to food and wine matching sessions and Maggies kitchen? One of Nina's favourite subjects
I love the opportunity to pass on my vinous passion, I get just as excited about the perfect food and wine matching sessions as I do about flavours, the pitfalls or benefits of soil types, climates and the effect of climate change, alcohol levels or frankly anything else on the spectrum of wine.